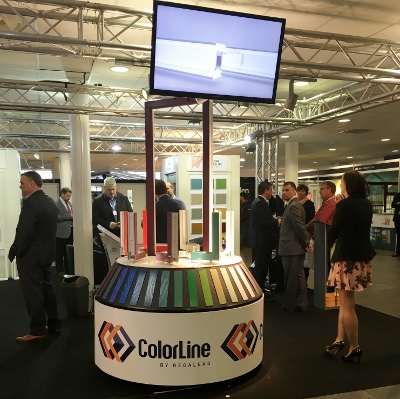 In the frame for successful FIT Show
Decorative Door Products (DDP) by RegaLead has returned from its most successful FIT Show yet with a host of leads for its range of products to help fabricators of composite doors add value through decoration. Particularly popular was its newest launch, the ColorLine service.
Visitors were treated to an array of solutions, including additions to the decorative door glass collection, and a number of contemporary frame and hardware options. But the highlight for those who came to RegaLead's stand had to be the colour matched door profile service, ColorLine. Guy Hubble, Joint Managing Director explains: "It has been obvious to us for some time that customers are increasingly looking for ways to differentiate their product offering. This was immediately apparent walking around the halls at the FIT Show. What's more, with enquires up some 60% on FIT Show 2014 for our extensive range of added value products to help visitors do just that, it's clear that this appetite will only continue to grow.
"At RegaLead we believe that colour is key to differentiation, as demonstrated by the tremendous interest in our ColorLine service, which launched officially at the show. ColorLine is the ideal solution to overcome the issues previously associated with matching frames and make life simpler for fabricators. We supply pre-painted profile in a three part kit form to match any paint colour, on short lead times. By supplying profile lengths which can be cut down, fabricators no longer need to assemble their door frames and then send them out to be painted.
"Mechanical joints are used instead of welding for ease of fabrication and greater aesthetics in keeping with the hard work undertaken by composite door manufacturers to achieve an authentic timber look. All kits are supplied pre end-milled with mechanical jointing cleats in place, negating a large investment for the fabricator in tooling. The profile has a tan, grained finish to accurately match the colour and finish of the door, for which we brought in a specially formulated, paintable foil that has been tried and tested in the North American market. So many visitors to our stand commented on just how good the doors looked with matching frames, and we invite anyone who would like more information to get in touch with us."