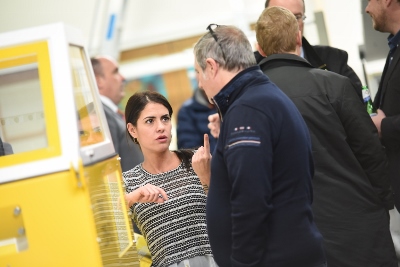 Automatic for the people
We are pleased to reveal that application of our ColorSpray GRP specialist paint system for doors can now be automated, in partnership with Israel based manufacturer of specialist application solutions, Goldglass Technologies Group, and their UK distributor partner, industry leading machinery supplier, the Promac Group.
Already popular for the painting of glass, the Goldglass M.R.C 2350- CI machine is equally suitable for composite doors, as demonstrated in North America, where it is widely used for painting fibreglass doors. Closer to home, visitors to RegaLead's open day were treated to demonstrations of the machine, which saw a single side of a standard composite door consistently painted in under two minutes 20 seconds. Paint quality is managed using the high performance spray gun, whilst spread and coverage is controllable via the machine's automatic speed adjustment and the belt conveyor system's pace range. Automatic cleaning ensures the machine is ready to paint a new colour in virtually no time at all.
Moran Goldstein, COO of Goldglass Technologies comments: "We were delighted to join RegaLead at their open day to demonstrate the benefits of automation provided by the M.R.C 2350- CI machine. Our ethos has always been to make painting simple, providing the highest quality technology which saves time and energy in the production process. It's a pleasure to work with like-minded companies such as RegaLead and Promac in bringing automated paint application to an even wider international audience of door suppliers."
Guy Hubble, Joint Managing Director at RegaLead adds: "At RegaLead we make no secret of the fact we partner only with suppliers who are experts in their field. We've been working successfully with Goldglass for some time on the automation of our ColorSpray paint system for glass, and we have always held a strong working relationship with the expert team at Promac. So when it came to an automated solution for our specially formulated ColorSpray GRP coating for composite doors, the obvious solution was to once again join forces with these companies. A great deal of interest was generated by the demonstrations at our open day, and it was fantastic to have Moran and the Promac engineers on hand to provide technical advice. We invite anybody who couldn't make it to get in touch for more information."
Register for your free ticket here: www.fitshow.co.uk/regalead/reg and see the latest developments from DDP on Stand AT10 at the FIT Show.