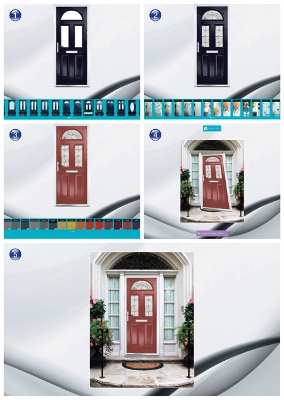 10,000 to one in five easy steps
The latest trend in the car industry of vehicles to 'suit your personality' has gathered pace in recent months, with the big names in motoring providing configurators which allow vehicles to be customised to an individual's taste. This increase in demand for personalised products is also increasingly apparent in the home improvement market and Decorative Door Products by RegaLead is pleased to announce that the same service can now be offered for front doors thanks to its newly launched door configurator.
 Developed in conjunction with Refresh Media Design, the door configurator is available immediately to customers who wish to incorporate this handy sales tool into their portfolio and can be viewed at http://www.doorglass.co/doordesigner.php. The web-based door designer incorporates the extensive range of decorative glass from the company's DoorGlass catalogue as well as all 26 DoorColour options. There are more than 30 styles to choose from, ranging from traditional to contemporary, and including doors using DDP's own 316 grade stainless steel Inox Glazing system.
Paul Edwards, Market Manager for the DDP division comments: "We have calculated that the Door Configurator can design more than 10,000 different combinations of glass, door styles and colours. What's more, it provides several features not available on any other door configurators in the market, such as the ability to view the door on a range of standard entranceway backgrounds or with your customer's own property photograph. There is even a useful tool which enables the configured door design to be sent via email in order to be recreated on the recipient's browser."
Nigel Walker, Partner at Refresh explains further: "As a long term digital media partner of RegaLead, we worked closely with the DDP team to develop what we believe to be the best door configurator on the market. Using the latest coding techniques we envisaged a system similar to that from the major car producers, with the ability to create a truly unique specification door intuitively and quickly via a web-browser. As the coding is via a managed image database, we can customise the configurator interface quickly and cost effectively to suit individual customer's specifications whilst managing the imagery and coding on RegaLead's servers."