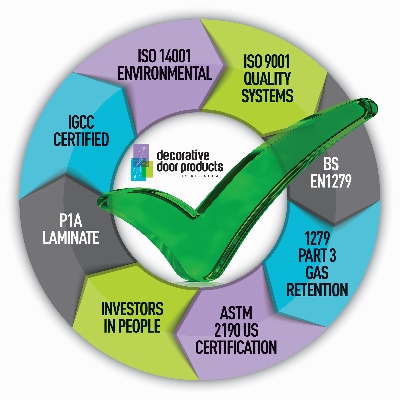 A touch of glass with proven performance
We are pleased to announce that we have further cemented our status as the leading supplier of quality decorative glass units for composite doors with the addition of yet another accreditation to our arsenal, in certified membership of the IGCC (Insulating Glass Certification Council) and IGMA (Insulating Glass Manufacturers Alliance).
RegaLead has long held the internationally recognised ISO 9001 (quality management) and ISO 14001 (environmental management) certifications across all business divisions, and since 2012 has also been accredited for Investors in People. As an IGU producer and importer, DDP proudly holds EN 1279, including Part 3 for gas retention, across all three spacer platforms that we manufacture in the UK, along with the same certification on all imported units and we continue to invest in the proven quality of our decorative glass units for doors.
Guy Hubble, Joint Managing Director at RegaLead explains: "Many companies look at standards as an inconvenience or a necessary evil in order to do business, but we appreciate that many of the procedures and checks needed to achieve them actually enhance the business and the quality and performance of our products. As well as holding all the UK accreditations you should expect from your supplier, DDP last year, achieved the 2190 standard for IGU production which relates to the US and Canadian market and we are delighted to now be certified members of the IGCC and IGMA.
"What's more, customers who work or are looking to work in the UK new build sector can rest assured that their doors are future proof ready for the amended Approved Document Q deadline of October 1st, as all of our laminated decorative glass units for doors have included a P1A laminate as standard since 2013 – a requirement under PAS 24, the main standard recognised by Secured by Design. Our business is adding value through decoration, and there is little value in a product which doesn't perform, no matter how attractive it – or its price - may be. We have the widest range of decorative glass units for doors available in the UK, units whose quality we are proud to say is such that they even meet the very stringent requirements of the US and Canadian market."